Micheal and I were blessed with the opportunity to travel to Rome last week and we had an amazing time. This was our second visit to Rome, the first occured in 2003, in stifling heat, with my parents. That summer we practically sprinted through outdoor sights like the Colosseum due to the heat, so we were very excited to get back and spend a little more time re-acquainting ourselves with Roma.
We stayed at a very quiant Bed and Breakfast,
Cernaia Suites
that was in the northern area of Rome and close to the University where Micheal's conference was. It's a very affordable option for those looking for a clean, quiet, friendly place to stay. The owner/operator, Renato, is fabulous!
It's right off of the
Piazza della Repubblica
which has a few places to eat, a bookstore, and some small vendors.

Daytime


At Night
The first day we walked to...
Piazza Barberini


The Spanish Steps


The Trevi Fountain
Stopped to get gelato...
That night we went back to the Trevi Fountain area to have dinner and went to a small bar near our hotel that served free popcorn with their alcohol and made friends with a group of Japanese tourists. I look like a spazz in all these pictures so..you get none. :)
Day 2 we went and registered Micheal for the conference, sat in on a few talks about boring math stuff and then headed into town. Crazy enough, the first store we stopped in had this fab Eames chair as part of the decor!
Then we headed over to the Piazza del Popolo
A story about that pretty rose. So these guys wander around major European cities (they were in Paris too) and try to get you to buy a rose for your significant other. We're pretty good at saying no but this guy had a good trick figured out. He asked you to listen to his story, he started to talk about having no work, his family, and as he was doing this he asked me to hold a rose...then he wouldn't take it back!! But would badger you to pay for it. So we paid a Euro, and I had a rose. Sneaky...
We stopped and got some more gelato...
Then we must have wandered for the rest of the day because I don't have any more pictures.
Day 3 we headed out to the Mercato via Sannio (near the San Giovanni metro) - a clothing market. It was HUGE. I forgot to take photos so here are a few from the web.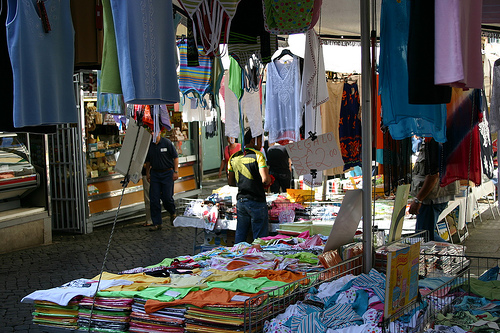 (Source: TurkeyArena.net and Romatoday.it)
It was very neat, I almost bought some pink Carhart pants as my new work pants! Regret that missed purchase...
Then we headed over to Vatican City.
Vatican City
We headed back to change and went out to dinner at a fabulous pizza place, "al Forno della Soffitta" via Piave 62-64 near the Piazza della Repubblica. This is me posing by my new dream car, a vintage Fiat 500 on the way to dinner.
Day 4 was a slow day, we were tired...
Day 5 was probably one of the most fabulous days of my life. We rented a VESPA and scooted around the beautiful city of Rome. Ah-mazing.
First we went to the Colosseum.

I took this photo because I have one of my mom and I in a very similar spot in the Colosseum in 2003
We hopped back on the scooter...

Saw some sights
And ended our day/trip in Piazza Navona, just the same as the last trip.
It was truly a wonderful trip! If you made it through all these photos, way to go!