Well, I was going to try and do one review a day, but THAT obviously didn't work out. Dang job and being a full time graduate student and renovating a kitchen!
The first half of the day has no pictures from me because my camera had died and it seemed as is EVERY Monoprix in Paris was sold out of converters!
So Day 5 - we headed over near the Bastille to try and find some Parisian markets! We were lucky to find a HUGE one right next to the Bastille and man was it awesome. Fresh vegetables, amazingly sweet and juicy fruit, lots of fruits we had never heard of before! (The following photo was borrowed from the Duke Study Abroad Website)
There were lots of "non-Parisian" vendors as well selling...well...junk. But it's fun to look at junk right? Well the fun had JUST begun.
The second market we went to was an antique/junk market. :) Some tables had lotsa cool stuff - some tables...you just didn't go near. Particularly the table by the guy sitting on the ground mixing something in his Smirnoff Ice bottle. Amazingly I made it out of both without buying anything! We did stock up though on fruits for our planned picnic that night on the Pont du Art!
After much wandering we started walking back towards the hotel. I wanted to ride these bikes that were all over Paris (image borrowed from guardian.uk.co)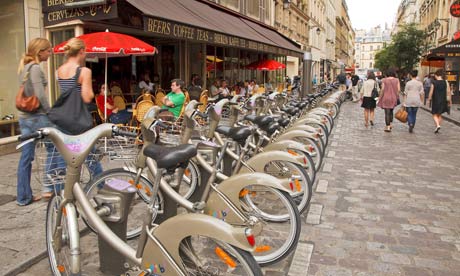 You're supposed to be able to kind of check them out and return them to any bike rack (and they're everywhere.) So we head up to the pay station and begin to navigate the complicated instructions (image borrowed from geographypages.co.uk)
Only to find that our stupid American Credit Card doesn't work because it doesn't have this fancy chip thing. I was so sad. (I made Micheal try twice, and at another machine later because I was in denial.)
God must have been watching and wanted to help with my disappointment because a true Kari miracle happened at this point. I hadn't had a Dr Pepper for 5 days because no one carries them in Paris. COKE must own Paris. I drank a few Cokes but I was definitely over it by day 4. As we walked away from the bicycle stand I saw a man walk by with what else...a cold can of Dr Pepper! Me: "HEEEEYYYY!!!!!!! Where did you get THAT?!?!" (Thank goodness he was American...) Him: "Right down the street at the restaurant called "Great American Breakfast." 5 euros later I had two of the most expensive and yet most delicious Dr Peppers ever. Sigh...
On the walk back we FINALLY found a Monoprix with a converter so we headed home to charge up (both the camera and me) before we headed back out.
On the way to dinner and in theory the Musee D'Orsay we ran across a cool comic book store and I lost my husband. :)
The coolest thing I found in the store were the fancy Harry Potter wands!

Pretty sweet eh?
We spent a little too long browsing so decided we'd go see The Musee D'Orsay next time we went to Paris. :)
While wandering to dinner I HAD to take this picture, it's SO Paris.

Get it? Wine and Cheese?? :) And a girl holding a baguette... so French.
Well that Wine and Cheese made me hungry so it was dinner time! We started with what seemed like a very safe dish - shrimp with avocado. Sounds good right?

I've seen bigger and fresher looking shrimp come out of a fancy feast can! AND to top it off, dive into the avocado...and find every single onion ever grown in the history of Paris. No lie. Dis.gus.ting.
Fortunately dinner was much tastier and FUN!

Grill your own dinner! Granted, we didn't expected it to come out raw, we thought the meat would come out sizzling on the stone, but hey - when in Paris right?



We've got duck, chicken, beef and one prawn. The duck was the best.
After dinner we went back to the hotel to grab the fruit we bought earlier in the day, some wine, and our lock to put on the bridge for our after dinner picnic. And it started to rain. Great night for a picnic! But as with most Paris rains it didn't last long and came and went throughout the night. The bridge was a little slow because of the rain but we did see some kids drinking and a couple of pot transactions, so a little excitement.

Micheal enjoying his wine (even if he doesn't look like it.)



Look at the size of those grapes!



Our love lock...awww...



Fruit, wine, a wonderful husband, Paris and surrounded by decades of love - what else could a girl ask for?!
This concludes Day 5. Markets, Miracles, and Munchies. :)